Article Details
Whoever came up with the expression "as easy as pie" was not joking and we have proof: four different types of pie dough and simple ways to master them! Whether you're craving sweet or savory, soft or crunchy, there's a type of pie to match the taste and texture you're looking for.
Pate Brisée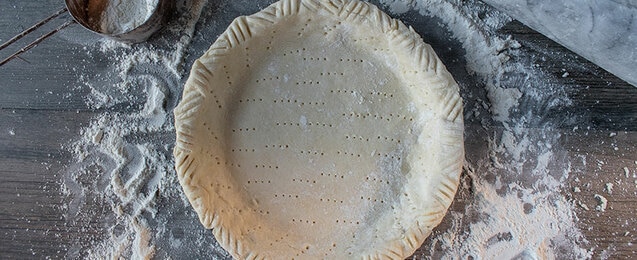 Also known as short crust pastry, Pate Brisée is the perfect savory and flaky base for quiches and tarts. You will need to mix 2 cups of all-purpose flour, 10 tbsp of cold butter, 2 tbsp vegetable shortening and 1 tsp of salt in a food processor until coarse. Add 1 tbsp of white vinegar and 6 tbsp of ice water until the mix becomes a moist mass. This type of dough requires two rounds of chilling for 30 min in the fridge before baking: first, as two wrapped flat disks and then rolled out and covered in a pie pan.
Pate Sucrée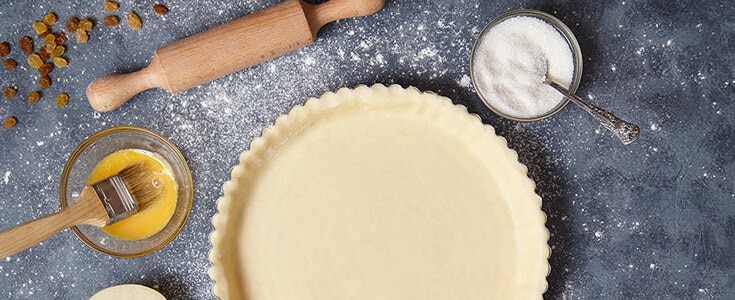 The softest of the pastries, this type of pie is rich and sweet thanks to all the sugar, butter and cream that go in it. The end result is usually perfect with blind baking, which involves baking the crust on its own, before adding any filling. To make Pate Sucrée you will need to combine 2½ cups of flour, 1 cup of cold butter, 1 tbsp of vegetable shortening and ½ cup of granulated sugar in a food processor until coarse. Add ¼ cup of heavy whipping cream and process so the dough holds together and is nice and moist. Push the dough around with the palm of your hand before dividing into 2 discs, wrapping and freezing it for 10 minutes before spreading into a pie dish and baking.
Pate Sablée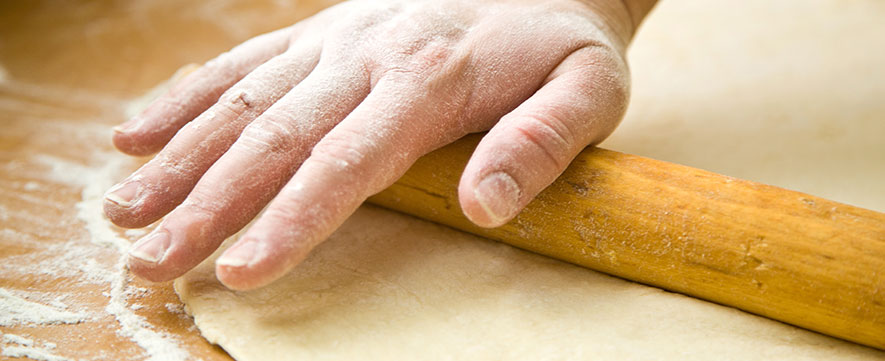 The delicious middle-ground of pie crusts, Pate Sablée is a combination of the rich taste of the Pate Sucrée and the crumbling texture of the Pate Brisée. Like the Pate Sucrée, it works best with blind baking. You can prepare a Pate Sablée by mixing 1 cup of softened butter, 1 cup of powdered sugar, 1 egg yolk and 1 tsp of salt either by hand or by using a stand mixer. Once the mix is smooth, slowly start adding 2¼ cups of all-purpose flour. Use your hands to turn the dough inside out before forming two discs, wrapping and chilling them in the freezer for 10 minutes. Remove the two discs and roll them evenly into a tart pan, cover them with plastic and freeze again for 10 minutes before baking.
Classic Flaky crust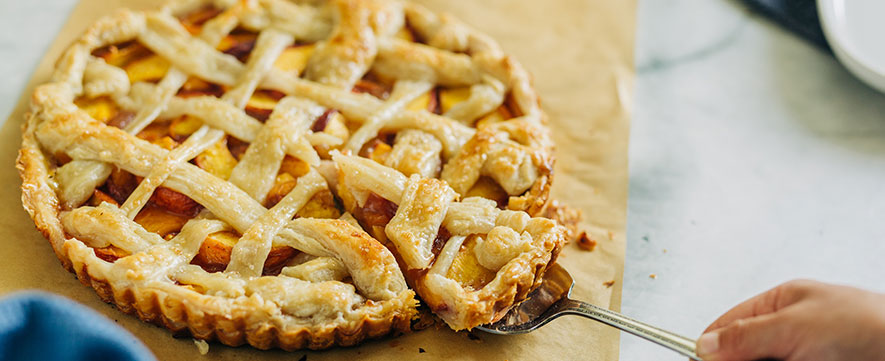 Considered an American classic, this traditional crust goes with almost any type of filling. To make it, you will need to first mix 1 ¼ cups of all-purpose flour and ¼ tsp of salt. Combine ½ cup of chilled and diced butter in until the mix looks like coarse crumbs. Drizzle ¼ cup of ice water, one teaspoon at a time, into the mix to loosen and moisten it until it forms a ball. Wrap it in plastic foil and place it in the fridge for 4 hours (or more if you are not in a hurry). Once chilled, roll out the dough into a pie plate and press it evenly to cover the sides and bottom of the pan. Make sure to double the recipe if you're going for a covered pie.
Keep
in mind:
Different types of pies and fillings require different baking methods.As a general rule, it's better to opt for blind baking if your pie will have an unbaked filling, like creamy chocolate or lemon custard. In case you're making a quiche, it's better to bake the pastry with the filling at the same time.
Subscribe for Some Sweet Updates
I want to receive the latest news and information, offers and deals from Nestlé. I can unsubscribe at any time.