Article Details
Autumn is all about falling leaves, pumpkin season and Halloween treats. Here are a few quick pumpkin desserts… so whether you're in the mood to bake or not, we've got you covered!
Homemade pumpkin purée
Find yourself a 2.5-2KG pumpkin, slice it in half and scoop out the seeds and strings. Place the halves on a baking sheet with aluminum foil and roast them for about 50 minutes until tender. Scrape the flesh and use a
Give this Nestlé Sweetened Condensed Milk Pumpkin Bread recipe a try!
Whisk 3 cups of all-purpose flour, 1 tsp of salt, 1 ½ tsp of ground cinnamon, ½ tsp freshly grated nutmeg, ½ tsp ground cloves, ¼ tsp ground ginger, 1 ½ tsp baking soda and 1 tsp baking powder together in a bowl.
In another bowl, mix 4 eggs (room temperature), 4 tbsp butter (melted), ¼ cup vegetable oil, 1 tin of Nestlé Sweetened Condensed Milk (397g), 1 can of pumpkin purée, ¾ cup granulated sugar and 1 tsp vanilla extract.
Whisk the wet mix into the dry mix until combined. Preheat your oven to 180°C, then grease two baking pans using some butter and flour and divide your batter equally between them. Bake for 40 to 50 minutes or until they pass the toothpick test (you insert a toothpick and it comes out clean).
Prefer to give the oven a rest?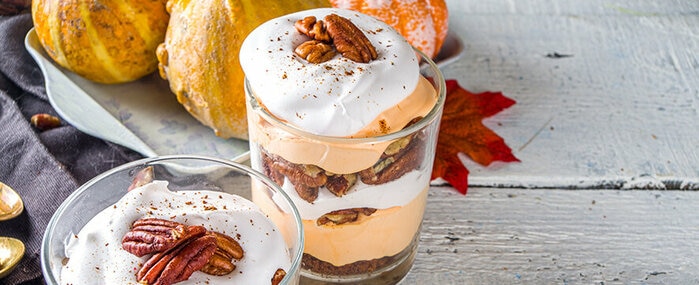 Here's a no bake, no fuss 'pumpkin pie in a jar' recipe to satisfy any pumpkin craving! For the pumpkin pie filling, you will need to mix 1 can of pumpkin purée (or you can make it yourself), 5 tbsp brown sugar, 1 tsp ground cinnamon, ½ tsp pumpkin pie spice, ¼ tsp ground ginger, ⅛ tsp ground cloves and 2 tbsp heavy whipping cream until combined
You will also need ¾ cup of gingersnap cookies, graham crackers or digestive biscuits and some whipped cream. In a small glass jar or cup, place some cookie crumbs on the bottom, add 2 tbsp of pumpkin pie filling and 2 tbsp of whipping cream. Repeat the same layers 2 to 3 times, depending on the size of your jar. Garnish with some pecans, ground cinnamon, cookie crumbs or chocolate sprinkles for extra sweetness!
Subscribe for Some Sweet Updates
I want to receive the latest news and information, offers and deals from Nestlé. I can unsubscribe at any time.