Article Details
Ice cream, sorbet and frozen yogurt are just some of the things we love about summer. That's why we set out to discover if these refreshing desserts are as delicious as they sound.
Ice cream
The go-to dessert for hot days and broken hearts, ice cream comes in quite a few variations and is usually made by combining sugar with milk (at least %10 fat), then churning them together using a fork or a hand mixer during freezing. To make some yummy ice cream in no time, you'll need two (yes, just two) ingredients: 2 cups of cold heavy whipping cream and 1 tin of Nestlé Sweetened Condensed Milk (397g) - also cold. Using a hand mixer or stand mixer, whip the heavy cream until soft peaks form. Pour the cold condensed milk into the whipped cream before whisking the mix at high speed until stiff peaks form.
Sorbet
With a few pieces of fruit, some water and sugar, you can create countless fresh and fruity treats. One of our favourites is mango sorbet: chop your mangoes and place them on a baking sheet before freezing overnight. The next day, add the frozen mangoes, ½ cup sweetened cream of coconut, ½ cup pineapple juice, 2 tablespoons lime juice and 2 tablespoons maple syrup into a food processor and blend for 8 minutes. Place your mix in an airtight container and freeze it for up to 4 days, then enjoy!
Frozen yogurt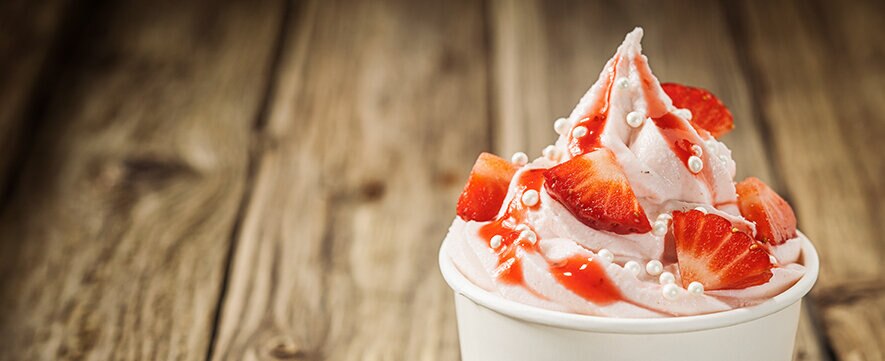 This frozen treat's popularity hit an all-time high in the eighties and returned a few years ago thanks to new flavours and fresh toppings. One of the perks of frozen yogurt is that it contains less fat than ice cream, but just as much flavour. One of the easiest recipes around requires only 3 ingredients: 2 cups of plain yogurt, ¼ cup honey or maple syrup, and 1 tablespoon pure vanilla extract. Add all ingredients into the food processor's bowl and start blending. Once the mix is smooth and fluffy, transfer it to a tray and freeze for 45min. Scrape the edges of the tray towards the middle part and freeze again for two hours. Keep scraping the mix every 30 minutes for a delicious soft serve treat!
Subscribe for Some Sweet Updates
I want to receive the latest news and information, offers and deals from Nestlé. I can unsubscribe at any time.